Our customers and employees' safety is our priority.
Therefore, we follow the advice and guidelines of the World Health Organization (WHO) and local authorities, with a view to the spread of

Covid-19

. Our focus is to meet our customers' needs while keeping our customers and employees safe. If it is desirable to deliver without contact, this can be agreed, and we assist with the delivery of a car in the immediate area.
We

have implemented corona measures with an extra focus on cleaning surfaces in the car that our employees and customers are in direct contact with. This is especially true of door handles, steering wheel, gear lever, controls and switches that are washed extra thoroughly between each tenant.
Welcome to a safe and secure rental car!
Welcome to Rent-A-Wreck Bergen Nord – your smart car hire choice, located centrally in Åsane.

Among Rent-A-Wreck Bergen Nord rental cars you will find among others. small cars, large cars, station wagons and vans. You can fill out the rental request / booking of a rental car completely without obligation. If you choose to rent cheap from Rent-A-Wreck Bergen Nord, we will do what we can to make you happy with your rental car.
RENTAL of passenger cars or vans at market best prices, easily available in Åsane, Haukås. We cover the whole of Bergen, Nordhordaland, Lindås, Austrheim, Radøy, Manger, Knarvik and Isdalstø. We can and deliver cars where you want + (delivery fee)
We have a wide selection of good rental cars from the smallest Toyota Aygo 4-seat, regular passenger cars / station wagons / minibuses and vans up to 19 cubic meters with lift for class B driving license.
Are you going to pull heavy trailers? We have Isuzu Pic Up, which pulls up to 3500 kg.
In addition, we have an Iveco flat car that can pull up to 3500 kg. This can also be run on a regular driver's license.
GREAT NEW TRUCK VEHICLE DEPARTMENT IN ÅSANE.
Here you will find Class C1 cabin cars, 15 pallets car up to 7500 kg two weight, Type Mercedes Atego w / lift.
Large selection of cars for driving license class C
Here you will find cabin cars (also brand new), with and without side opening, and all with lift and payload 7000-14000 kg. The sample can be mentioned:
TRAILER RENTAL
Common trailers, hangers for car freight and boat trailers.
Our cars are models of well-known and good brands. All cars are delivered carefully cleaned and checked. Our goal is to have the best prices on all rentals from a 24-hour, weekend, month-to-year rental. Please contact us and we will do our utmost to satisfy your needs for transportation whether you need, a professional car, a moving car, a van, or a passenger car.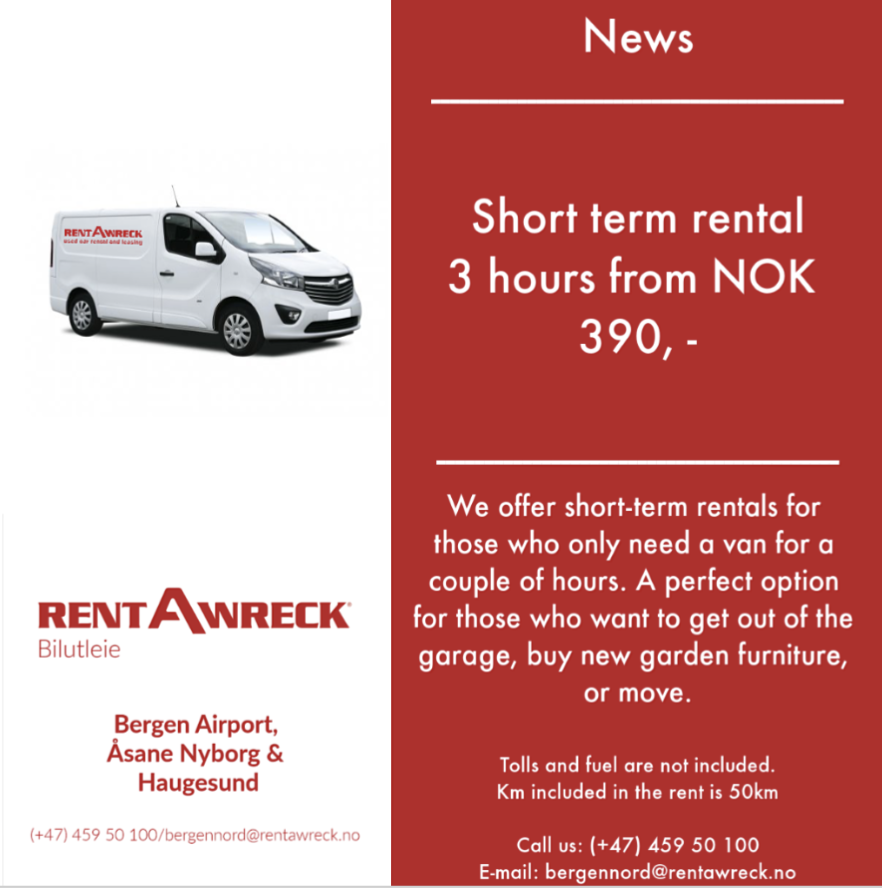 Are you a student ?
We provide up to 

20%

student discount on

ordinary rental

rates booked online. Students must then state that they are a student in the field of study, and

include a student certificate when picking up a car

.